'Oat and barley bread' from Jaspers

Some times I buy oat and barley bread for my B & B visitors. I get  all my bread from Jaspers bakery on Newport High Street. They bake their own bread on the premises – from scratch – no part-baked tat – with a proper baker.
One of my visitors enquired about the oat and barley bread ingredients; what were the quantities of oats and barley? So I decided to ask. The reply came – straight from Mr Jasper  – 50% oat and barley , 40% wholemeal wheat and 10% white.  I think that they need to add wheat flour for the gluten to make it rise. This morning I popped in for a small oat & barley bread – still warm!
and we had beans on toast for breakfast. How fresh is this!
However, completely changing the subject . . . how about going in for something completely different
The Orchard -Fine Dining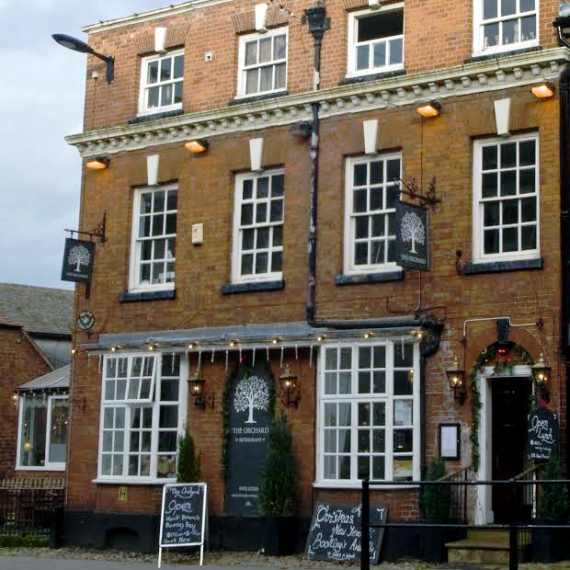 The Orchard Dining is a fairly recent restaurant on the scene in Newport. In fact, it is the only proper restaurant in Newport. It is on the High Street, and  easily walk-able from 'The Ferns' – in say 10 minutes. This is a really smart  restaurant- silver service. Its worth getting there early or booking in advance in order to get a table in the conservatory, which is lovely.
The only problem is that there isnt a great deal of choice for vegetarians.  We chose the two different veggie offerings: gnocchi with a tomato sauce and sweet potato and lentil bake with fresh vegetables. The gnocchi was really delicious.(This is only available on Wednesday and Thursday). My husband had the 'bake'; it was tasty but a little too small for a man size  appetite. Slightly disappointing at £15.75. My husband said that had he known he would have asked for chips to fill him up! My pudding – Rhubarb and Amaretti sponge pudding – was delicious. The bottle of wine, although it was the cheapest on the menu -a South African Chenin Blanc – was very good.
Anyone staying at 'The Ferns' needs to check the menu because it changes every few months. The Orchard says they can easily accommodate special diets, so if you have any queries, just ask!
Heritage Trail
Newport History Society have published a new heritage trail. It covers the centre of the town, which includes Station Road. A copy of the book is available for our visitors to use when they visit. Please don't take it away with you though! The picture on the front is of cattle being herded down the High Street to the Smithfield Market. This doesnt happen any more although it did until the 1950s
If you want a copy of your own or you want to buy a copy for a friend or relation copies can be obtained  at £4.50 from the Guildhall Tea Rooms
Another reason for visiting Guildhall Tea room is  a lovely cup of tea
Walks around Newport
We walk around Newport regularly, and so I each month I shall tell you about  one of our walks. Any visitors can ask for details of any of these walks. Today we did a walk to Edgmond which was perhaps about 4 miles. This is a village near to Newport.
We started off along the western part of the canal and bumped into a swan  lazing on the tow path
At the end of the canal  we simply followed the clearly designated path  across a farm with Aberdeen Angus cattle.
At the end of this track, we turned right into a green lane which led us to Robin lane and thence to Edgmond High Street, where we stopped and visited the Church
I took so many photos of the historic  tombs here that the battery ran out  on my camera and so there are no more photos of the walk after this point!
From the church, however,  we took the footpath nearly opposite, which took us down to the 'Long Ford' over the Strine Brook and then back along Longford Road eastwards into Newport. It took us a couple of hours – gently strolling along on a very hot afternoon.
The figs are ripening on our fig tree, waiting for new B & B visitors…
Have a lovely summer
Linda